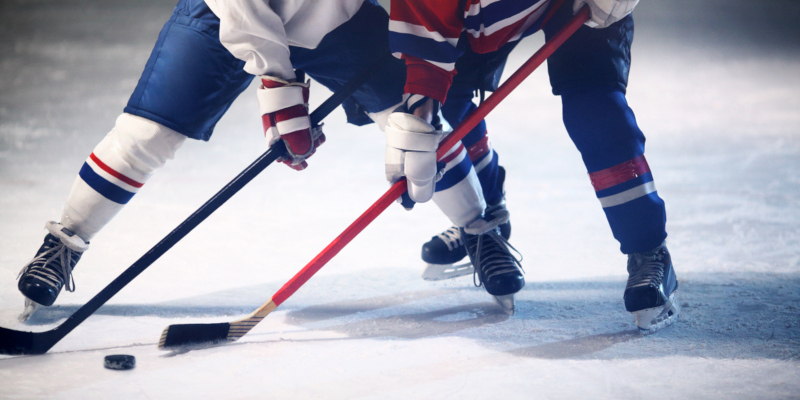 This blog will look at defensive strategies for 3-on-3 hockey.
When considering defensive systems, coaches typically work on:
"Man-on-man defense", where each offensive skater matches against a player on the other team and attempts to maintain body position between his opponent and the offensive player's net.
"Zone-defense", whereby the three skaters form a triangle in front of their goalie and try to force their opponents to shoot from outside the triangular zone.
Often your team's defensive system will be an applied combination of these tactics in response to your opponent's offensive attack once they've acquired possession of the puck. This moment of transition (from offense to defense and from defense to offense) is even more critical in 3-on-3 hockey than it is when playing 5-on-5 hockey.
Stronger teams rarely get caught during transition (offense to defense) and often catch their opponents napping when transitioning from defense to offense.
When transitioning to defense, the priority is to avoid giving odd-man advantages to the opponent. All defensive players try to be on the defensive side of their opponent. This concept is essentially the man-on-man defensive system and can be applied anywhere on the ice. When any one defensive player fails to position himself on the defensive side, the opponents may try to use this advantage, by making a quick transition, to generate a scoring opportunity. When everyone is in a strong defensive position, the opponents are prevented from moving the puck to high-percentage scoring areas. The puck carrier can then be pressured by his defensive opponent and risk losing puck possession.
Zone defense will generally be implemented once one team has puck possession and is in their opponent's zone. While teams can play man-on-man in their own defensive zone, doing so can lead to confusion when opponents cross, creating accidental "picks" (collisions by defensive teammates while trying to stay with their check) or failure to "hand-off" (switch) match ups. By forming a dynamic triangle in front of their net and protecting the area inside, the defensive team challenges their opponents to take lower-percentage shots from further away, with sticks, legs and bodies blocking the path to the net, and relies on their goaltender to save any shots that make it through. If the goalie can stop play or control the puck, it is generally advised to do so. Rebounds lead to battles for puck possession.